Plastic toys are cheap and attractive for your kids to play with but can cause serious health issues to your baby. The combination of a few chemicals found in PVC plastics is what makes plastic toys dangerous for kids and babies. The biggest health risk with these toxins is that they can leach out from the product, especially when babies put the toys in their mouths. Even worse, there are items in the market like teething rings, bath toys, and squeeze toys made using toxic chemicals.
Some of the toxic additives used in plastic toys are:
Phthalates are commonly used in plastic toys to give a soft and squishy feel. These chemicals are endocrine disruptors and can cause an imbalance in hormones. Phthalates not only upset the body's hormonal balance, but they are also known to stimulate the growth of cancers.
Cadmium is another common chemical found in plastic toys. It is used as a plastic stabilizer which is said to affect normal brain growth and can cause kidney damage.
Lead is used in plastic toys to make it more durable. It is also sometimes used in paint solutions. Lead is known to affect the nervous system and has been linked to hearing loss, decreased IQ and ADHD. Many Chinese toy products have been known to contain lead. If the toy is exposed to high heat, the lead may leach out in the form of dust, which may then be inhaled or ingested by your child.
BPA (Bisphenol A) is found in plastic toys, sippy cups, plastic bottles, and canned food lining. BPA is considered more of a danger when children put plastic products in their mouths, so the main concern with BPA has been on food and drink products. If your child is continuously chewing on toys, it is best to avoid plastic toys for that stage.
Safe Toys for Kids
One of the safest forms of plastics for children is polypropylene. Polypropylene is heat resistant and does not leach smell or toxins out even when exposed to warm or hot water. Look for 100% PVC-free labeled toys as it is the best way to guarantee that the plastic does not contain potentially dangerous phthalates. A BPA- and phthalate-free plastic toy is a healthy toy for your kids.
Wooden toys typically don't contain any chemical unless it is painted with chemical-based paint. Moreover, wooden toys are made from a sustainably managed forest and can be discarded without any risk to the environment. Bamboo toys are a much better option as it does not contribute to deforestation. Also, there is no emission created in the harvesting process, making them healthy toys for your baby as well as the planet. You can find wooden and bamboo toys in traditional stores and costs less than fancy plastic toys.
Organic cotton or hemp soft toys
Cotton or hemp filled soft toys are ideal for kids. They are safe, made from natural materials and do not have sharp edges to hurt your baby. If you are worried to hand your kids fluffy toys, make sure it is made from insecticide-free fibers which eliminate all the health risks.
If you still concerned about the health risks of plastic toys, it is best to avoid plastic toys altogether. You can opt for wooden toys, natural art supplies, play silks, wooden puzzles, or silicone toys. These toys are much safer and your kids will love them too.
Replacing plastic toys with much safer options is only the start as there are other many baby plastic products that babies use every day. Baby bottles, bibs, sippy cups, utensils, and tableware are some of the products that are made from plastic which should also be replaced. Plastic baby bottles can be replaced with glass ones, sippy cups can be swapped with silicone cups and plastic utensils can be replaced with Ecoware products.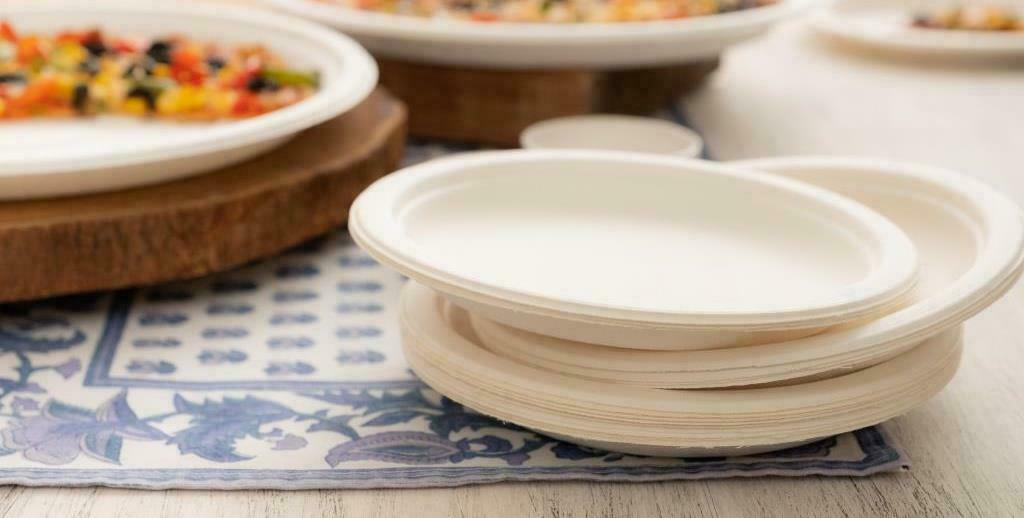 Ecoware is the leading manufacturer of sustainable products in India and has a wide collection of eco-friendly disposable cutlery and biodegradable disposable tableware for your baby. The disposable wooden spoons and biodegradable disposable plates are made from sugarcane pulp and other natural materials which makes it perfect for your baby. You can order eco-friendly disposable trays, biodegradable spoons and biodegradable paper bowls from ecoware.in.