How did you get interested in sustainable packaging?
I moved to Delhi from London in 2009. In London, I worked as a senior sales representative for pharmaceutical company Pfizer where I focused on Oncology drugs. During my time at Pfizer, I studied a lot of clinical research linking plastics in food packaging (such as BPA) to cancer and other sicknesses. When I moved to Delhi, I was appalled to see piles of plastic rubbish on street corners. I also noticed how people were talking about healthy or fresh or organic food but ignored the eco friendly packaging from which they were eating that very same food. Ecoware was born to address both these challenges – pollution and health – in a sustainable manner.
Ecoware is India's largest consumer brand for sustainable food packaging. All our products are made from the waste of common agricultural crops such as sugarcane and wheat. We set up India's first manufacturing facility way back in 2010. We have branded the disposables sector, which was otherwise treated as a commodity. Consumers now recognize the Ecoware brand as the standard for healthy, safe and environmentally responsible packaging.
Ecoware provides a sustainable and affordable alternative to plastic and foam disposables that have collectively caused untold damage to the environment and adversely impact human health. Ecoware also efficiently uses agricultural waste that is normally disposed of by burning in the open. Pollution in major north Indian cities during October and November is primarily blamed on unchecked stubble burning.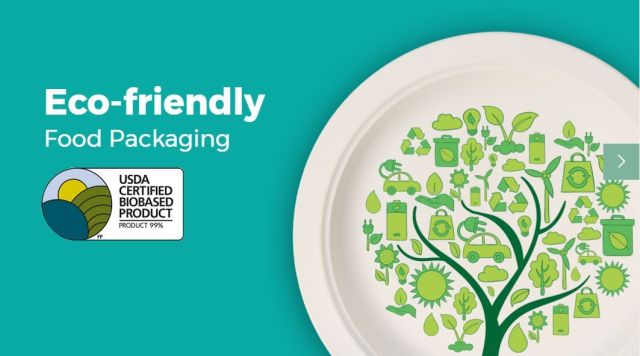 India does not have a culture of waste management. Of the 62 million tons of waste produced in 2015, nearly 50% was dumped in landfills without treatment (Central Pollution Control Board). Plastic disposables constitute the majority of this non-treated waste by virtue of being cheap and commonplace. Faced with this predicament, I entered the market in 2009 to change peoples' mindset and challenge plastic's monopoly. Ecoware is a like-for-like replacement of plastic. It is affordable, available everywhere and exhibits the same or better properties. While there were biodegradable options prior to Ecoware in the market, none offered the complete package. Some materials are seasonal, others limited to certain geographies or have shortcomings in their usages (not suitable for Microwaves, not oil resistant, etc.). Ecoware was truly the first all-India solution that could cater to any food type.
Can you explain the USP of your product?
Ecoware products are made from plant biomass. The biomass pulp is produced from plant residue and is defined in such a manner that no chemical or pesticide residue is present.
We keep the process as natural as possible
Ecoware products do not contaminate the food it contains unlike traditional plastic and styrofoam and our range of tableware is 100% biodegradable and compostable. Our range of products is USDA (United States Department of Agriculture) Certified Biobased. By choosing a biobased product labeled, USDA Certified Biobased Product, the consumer can be assured that the USDA and the federal government stand behind the accuracy of the percent of biobased ingredients as stated on the label.
Furthermore, our range of tableware sustains a temperature range from -20 to 180 degrees Celsius, which very simply means you can use our products in the freezer, fridge, microwave and oven
What is the response?
Extremely encouraging, Ecoware started much before plastic bans became de rigueur. At the start we invested a significant amount of time and effort to educate businesses, retailers and consumers about the harmful effects of plastic, both on health and the environment. We are now bearing the fruit of our efforts as Ecoware is in demand from Kashmir to Kerala.
Ecoware revolutionized the food packing industry in India by introducing eco-friendly alternatives to plastic and Styrofoam
India is such an exciting market with tons of potential and exciting domestic consumers. Peoples tastes are evolving, they are becoming more aware and educated and are making more responsible choices. For me, this is key because I have been driving awareness so that my consumers make better choices and live responsibly, which is why I feel Ecoware is even more pertinent in the coming years
As a mother of 2 young kids, I am even more driven to make sure we spread the message of responsible living and carry on providing solutions that are healthy and safe of for the environment, our families, and generations to come. Ecoware for me is more than a commodity, it's about delivering a brand experience
How can we increase awareness to switch to eco-friendly solutions?
Educate and create awareness at every level possible on.
Educate on Why and how plastics/foam are harmful.
Empower consumers to make the right choices by making them aware of what are the healthier more sustainable options available.
Educate on how to read the right labels and understand certification so that consumers know that they are buying a genuine product.
Did you get any support from the government?
None so far, Swacch Bharat and plastic bans have only recently been introduced. However, enforcement of these bans remains a challenge
Any other companies doing this?
3 other companies have cropped up in the last couple of years, however, Ecoware remains the pioneer in this industry with the maximum number of products to offer a wide range of consumers.
What were, are still are the challenges?
My biggest challenge has been changing consumer mindset. When you introduce a new improved version of existing incumbents, especially one that sells at a premium, then it's all about educating users about the benefits and advantages of using your product.
Regulations. We are certainly beneficiaries of plastic bans in many states and are grateful to the noble regulators for passing such landmark legislation. However, the reality of the situation is that this is India. As long as consumers find loopholes they will continue to exploit it until they are personally penalized. Behavioral economics has taught us that the greatest incentive for a person to change his actions is monetary.
If Ecoware permanently becomes cheaper than plastic, Styrofoam or aluminum disposables, then there will be no incentive to use synthetics. For this, biomass pulp molded products such as Ecoware need to attract 0% GST. If we remove GST, we can say goodbye to plastic disposables forever. Further long-term fiscal incentives should be extended to manufacturers such as us, who are using local resources to make this product in India.
Ecoware started much before plastic bans became de rigueur. At the start we invested a significant amount of time and effort to educate businesses, retailers and consumers about the harmful effects of plastic, both on health and the environment. We are now bearing the fruit of our efforts as Ecoware is in demand from Kashmir to Kerala.
Other than the challenges of setting up a consumer business, I had to overcome the stigma and bias associated with being a female business owner in India. Having spent most of my life abroad I was practically a foreigner and spoke very little Hindi, the business language of north India. Despite these hurdles, I convinced generational traders in large wholesale markets to sell a product they had never seen before and that cannibalized their current revenue.
Source: Bold Outline[/vc_column_text][/vc_column][/vc_row]