[vc_row type="in_container" full_screen_row_position="middle" column_margin="default" column_direction="default" column_direction_tablet="default" column_direction_phone="default" scene_position="center" text_color="dark" text_align="left" row_border_radius="none" row_border_radius_applies="bg" overlay_strength="0.3″ gradient_direction="left_to_right" shape_divider_position="bottom" bg_image_animation="none"][vc_column column_padding="no-extra-padding" column_padding_tablet="inherit" column_padding_phone="inherit" column_padding_position="all" background_color_opacity="1″ background_hover_color_opacity="1″ column_shadow="none" column_border_radius="none" column_link_target="_self" gradient_direction="left_to_right" overlay_strength="0.3″ width="1/1″ tablet_width_inherit="default" tablet_text_alignment="default" phone_text_alignment="default" column_border_width="none" column_border_style="solid" bg_image_animation="none"][vc_column_text]According to an UN report 78 million metric tons of plastic packaging is produced every year globally and only 14% of this waste is recycled. A Majority of this waste is generated from developing nations like India that lack the formal waste management systems. India faces major environmental challenges linked to waste generation, insufficient waste collection, transport, treatment and disposal. Existing systems in India cannot cope with the volumes of waste generated by an increasing urban population, and this has an immense negative impact on the environment and public health.
Furthermore, the global spread of the COVID-19 pandemic has resulted in consumers shifting from shops, restaurants, shopping malls and super markets to online portals for their purchases.  As a result, we are seeing a spike in demand for all forms of packaging.
Single-use plastic products have historically been convenient and cheap, however now that there are better, healthier alternatives available we don't want to see consumers and the industry regress.  Here are some tips on how to reduce your consumption of single-use plastic:
Use biodegradable tableware: Whatever the occasion may be, instead of using containers made of plastic or thermocol, use of biodegradable disposables. Not only will it serve the purpose of convenience, but these products are stronger, 100% plant based and affordable.
Use reusable shopping bags: Plastic bags are the single biggest source of deterioration of our environment. According to research, carrying a reusable shopping bag with you can reduce your consumption of single-use plastic bags by 300 pieces per year. So the next time you go out, make sure to carry your reusable bag with you.
Your coffee: Over 500 billion single-use coffee cups enter our ecosystem every year globally. These cups often end up in a landfill or in our oceans. By using a reusable cup or encouraging your local coffee shops to use biodegradable cups, you can become a part of the solution and not the problem.
Take-away Food: There are numerous F&B outlets that practice sustainable systems which positively impact people and the planet. We must continue to encourage such businesses and also encourage those that still use plastic, to make better choices.
Say NO to plastic straws: On average, we use a straw for an estimated 20 minutes before we dispose of it. It takes more than 200 years for a single-use plastic straw to breakdown, if that.
Avoid Bottled Water: Carry your own water bottle.
Say NO to vegetables packed in plastic:  Since you're going to go home and wash your vegies anyway, just out it straight into your shopping cart and then into your reusable bag.
Buy fresh bread that comes in either paper bags or no bags.
Use plastic-free feminine hygiene products: We are seeing plenty of ecofriendly options emerge in the market.
Learn to store food without plastic: You can easily use glass lock jars instead of plastic containers.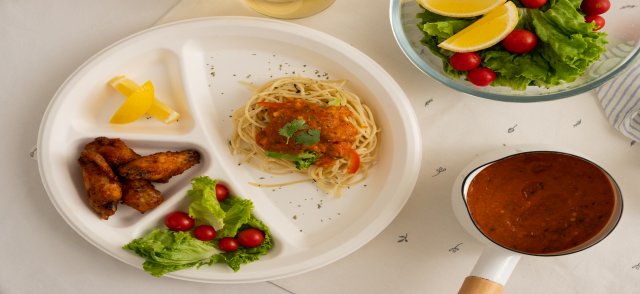 Ecoware provides a range of single-use biodegradable products like bowls, cups, cutlery, plates and customized food containers for food deliveries. If you want to reduce your carbon footprint and consumption of single-use plastic containers without losing out on the functional benefits of it, visit our website www.ecoware.in
Ecoware is a healthy solution to your everyday consumption choices. Our plant based tableware has zero plastic, is certified biodegradable and positively impacts society and the environment. It isn't possible to go 100% plastic free but we need to start somewhere and we hope by reading this blog, you are motivated to reduce your consumption of plastic and plastic disguised products.[/vc_column_text][/vc_column][/vc_row]