So you have adopted a healthy lifestyle and are eating salads enriched with the goodness of organic fruits and vegetables these days? But what about the takeout containers you are having these salads in? If they are made of plastic then you need to think carefully about the overall effect this is having on your body.
"When I moved to India, there was this noticeable buzz around healthy eating. People were talking about getting organic raw materials and preparing the healthiest meals. But then, they were serving that food on plastic or Styrofoam plates. This didn't make any sense to me. All the benefits of a healthy meal get negated if the serving dish is not clean, is re-used, or contains chemical additives. It has to be a complete process – if you eat healthy then what you eat out of should also be healthy for you," says Rhea Singhal, the founder of Ecoware – a company that produces eco-friendly tableware to fight the ill-effects of plastic and its substitutes.
A pharmacologist by qualification, Rhea was born in Mumbai and moved to Dubai when she was a year old. She was brought up in Dubai and London and was working with a pharmaceutical company as a senior marketing and sales executive before starting Ecoware.
She moved to India in January 2009, after her marriage. "There were two reasons behind starting Ecoware," says the 34-year-old. "Living abroad, I was used to using eco-friendly products and there was this element of responsible living there. And secondly, I used to work in the pharmaceutical company named Pfizer as a part of their oncology team. One of the biggest issues of concern and learning for us at the time was that there are so many risk factors that you can control when it comes to talking about cancer. For instance, you can't control your genetics or what you have done in the past, but you can control the kind of food you eat and how you eat it. This is where the element of plastic comes in. We all know that when you put hot food on thin plastic, it releases toxic juices into your food and changes the flavor. This is how we ingest these chemicals that lead to diseases."
She started looking for biodegradable products similar to the ones she had seen in London, only to realize that there was a prominent gap in the market. "I always knew that I had the skills to start a venture. But I was waiting for the right opportunity. In India, I found an urgent need to reduce the amount of littered and discarded plastic products found everywhere. At the same time, I wanted to provide safe and healthy food packaging solutions to the citizens," says Rhea.
After a lot of research and study, she self-funded and founded Ecoware in May 2009, with one factory in Uttarakhand. In the beginning, Ecoware produced only bowls and plates – the conventional shapes that work well with plastic and Styrofoam.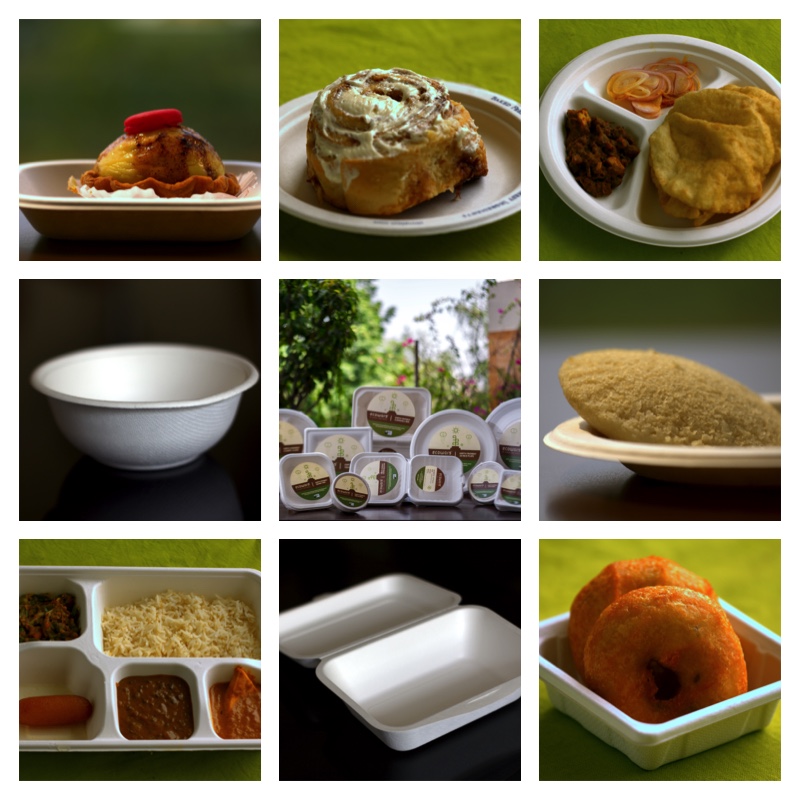 The products are made of plant biomass, that is, the leftover crop after the processing of rice, wheat or sugarcane. This raw material is made into pulp, spread into a tank, fed into a machine and placed in molds. It is then heated and dried. The process does not lead to any waste and every Ecoware product is completely biodegradable as certified by the US Department of Agriculture. Each item composts in about 90 days. To ensure the quality of raw material, Rhea sources it from within 250 km around the factories. All tableware items are microwave and fridge-friendly and can hold liquids for up to 24 hours without leaking. They have no binders, additives, coatings, fillers, plastic or wax lining, or pesticide and chemical residue.
The cost of Ecoware products is 15% higher than that of plastic and about 35% higher compared to Styrofoam. People can purchase these products from here. They are also available on Amazon and SnapDeal and, are sold by distributors across the country.
Other than individuals, Rhea's clients include restaurant chains like Haldirams, Chaayos, Chai Point, etc. The Delhi and Mumbai airports, American Embassy School, Oberoi Hotels, among others, place orders as well.
"Being taken seriously in this male-dominated business industry – from the laborers in the factory to the distributors and sales managers– is a large test of business stamina," says Rhea, talking about the challenges she had to face when starting up. She is now also planning to expand the company to make products like takeaway packaging solutions, industrial packaging material, packaging for hospital disposables, etc.
Rhea's vision is to make Ecoware a household brand synonymous with safe food packaging and to make it a one-stop-shop for all biodegradable packaging products.
"As a mother of two young kids, I am even more driven to make sure that we spread the message of responsible living and carry on providing solutions that are healthy and safe for the environment, our families, and generations to come. Ecoware for me is more than a commodity; we take pride in being responsible manufacturers," she concludes.
Ecoware has worked for the past decade on solutions to the problem of plastic disposables and tableware being consigned to landfill, producing eco-friendly disposable tableware, which is affordable and 100% compostable, made from naturally-occurring sugarcane bagasse.
Source: The Better India