[vc_row type="in_container" full_screen_row_position="middle" column_margin="default" column_direction="default" column_direction_tablet="default" column_direction_phone="default" scene_position="center" text_color="dark" text_align="left" row_border_radius="none" row_border_radius_applies="bg" overlay_strength="0.3″ gradient_direction="left_to_right" shape_divider_position="bottom" bg_image_animation="none"][vc_column column_padding="no-extra-padding" column_padding_tablet="inherit" column_padding_phone="inherit" column_padding_position="all" background_color_opacity="1″ background_hover_color_opacity="1″ column_shadow="none" column_border_radius="none" column_link_target="_self" gradient_direction="left_to_right" overlay_strength="0.3″ width="1/1″ tablet_width_inherit="default" tablet_text_alignment="default" phone_text_alignment="default" column_border_width="none" column_border_style="solid" bg_image_animation="none"][vc_column_text]In these past few months, we have witnessed COVID-19 sweep across the world with deadly effect. India has not been spared. We are tackling a public health emergency along with unemployment, hunger, and economic malaise due to mandatory social distancing and curtailment of business activity.
The maximum impact has been on the MSME sector which contributes 30% to India's GDP sector and is the backbone of manufacturing and services in any developed economy creating jobs and consumer demand necessary for sustained growth.
The impact of the COVID-19 pandemic is not gender-neutral. We see a disproportionate impact on women and women-led businesses as these businesses typically operate in the trade and service sectors that have directly affected by social distancing measures. Tourism, airlines, hospitality, food & beverage, salons, etc. were the first business casualties of coronavirus. As most vocational skills are not easily transferable, women employees will have to re-skill to survive thereby increasing expenses and reducing opportunities for all to have gainful employment. Also, women are more likely to lose their jobs than men. In many countries, women's participation in the labor market is often in the form of temporary employment. Pre-COVID-19, it was challenging for women entrepreneurs to access credit. Post-COVID-19 this will be amplified many times as credit will be of paramount importance in the survival of firms.
Five months ago on March 8, the world celebrated International Women's Day. In India, we celebrated and recognized our Nari Shaktis. It is critical that the government remembers our Nari Shaktis in good times as well as bad. COVID-19 has provided a once in a lifetime opportunity to correct the gender imbalance in the Indian industry. The implications of closing the gender gap are significant. Because women bring new skills to the workplace, the productivity and growth gains from adding women to the labor force (by reducing barriers to women's participation in the labor force) are large. Retention of women in the workforce is paramount to the success of the economy as women dictate key consumption habits in a household. Research has shown that when women are financially independent, they will make healthier choices which in turn will benefit other members of the family. Finally, COVID-19 has infected more than twice the number of men than women, giving a special responsibility to women to shoulder the economic recovery.
It is imperative that the MSME sector in general and women entrepreneurs and workers in particular, are supported during this crisis. Our ability to bounce back from this crisis is dependent on how we include everyone equally. If more women take part in shaping a new social and economic order, chances are that it will be more responsive to everyone's needs and make us all more resilient to future shocks.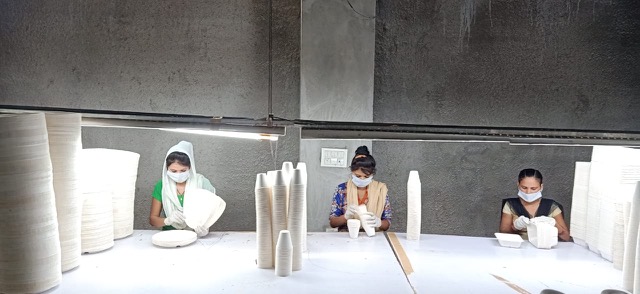 At Ecoware we actively work to improve the role of women in manufacturing. From our 120+ team, 30% are women. Our manufacturing unit produces 100% biodegradable and compostable tableware made from plant biomass for the F&B industry, our products are a ready replacement for synthetic food packaging, such as plastic, thermocol, Styrofoam and aluminum. We train and skill women in various roles across the organization from machine operators to quality control inspectors to electricians. Our women champion the cause of Ecoware in their communities. Women are the primary homemakers and in an increasingly modernizing India, continue to make the main consumption decisions for a household. We have found that women tend to lean more on word-of-mouth references when buying consumer goods, and Ecoware is a healthier and safer choice for their families vs plastic. Because every household requires disposables at least 3-4 times a year for parties, birthdays, festivals, events, prayer meets, etc., we ask them not to risk their family's health by serving food on cheap plastic containers.[/vc_column_text][/vc_column][/vc_row]