[vc_row type="in_container" full_screen_row_position="middle" column_margin="default" column_direction="default" column_direction_tablet="default" column_direction_phone="default" scene_position="center" text_color="dark" text_align="left" row_border_radius="none" row_border_radius_applies="bg" overlay_strength="0.3″ gradient_direction="left_to_right" shape_divider_position="bottom" bg_image_animation="none"][vc_column column_padding="no-extra-padding" column_padding_tablet="inherit" column_padding_phone="inherit" column_padding_position="all" background_color_opacity="1″ background_hover_color_opacity="1″ column_shadow="none" column_border_radius="none" column_link_target="_self" gradient_direction="left_to_right" overlay_strength="0.3″ width="1/1″ tablet_width_inherit="default" tablet_text_alignment="default" phone_text_alignment="default" column_border_width="none" column_border_style="solid" bg_image_animation="none"][vc_column_text]Have you ever realized that we live in a plastic world? No? It's alright. Look around yourself and observe how many plastic products are in your surroundings or you can make a list of the things made up of plastic you used in a day. From your toothbrush to a water bottle to your brand new air conditioner everything is made up of plastic. Plastic is everywhere and has grown its roots so deep that it would be hard to eliminate it from our lives. What we can do is stop the consumption of single-use plastic and a plastic free kitchen as it is more hazardous for us and our environment.
A fact: The higher consumption of plastic is in the kitchen. From the plastic lining on lids of glass jars and food tins to the bin bags we use for waste to the bottles we drink from, everything is about plastic. So, let's start our way to reduce plastic usage from our kitchens.
Ecoware brings you 5 tips for a plastic-free kitchen
Say NO to plastic bags– Everyone has a Polly bag filled with many poly bags at their homes. So, instead of filling up that bag take your cloth or jute bag with you whenever you go out for grocery shopping. This would be your first step towards a sustainable lifestyle.
Say NO to plastic utensils– Next time when you are buying utensils opt for wooden or metal ones. This will not only save the environment but also will keep you away from harmful toxins. The same thing goes with non-stick pans too as their coating is also a kind of plastic. You can always use clay pots. This will support the local vendors as well.
Say NO to aluminum & plastic wrap paper– Aluminium foil keeps your food hot but do you know that it secretes harmful chemicals when comes to contact with hot food? Swap out environmentally friendly clingfilm alternatives for a reusable, fresh, modern, and sustainable storage solution, or invest in some reusable stretchy silicone lids.
Say NO to single-use plastic packaging– Always opt for refillable products. You must have noticed that the milk you purchase comes in plastic packaging. Many brands provide food in biodegradable packaging or glass packaging. This will keep you and your food safe.
Say NO to plastic tiffins or jars– Never purchase plastic tiffin boxes for yourself and your children. Always choose biodegradable tableware as your tiffin box. It decomposes easily and doesn't harm our planet.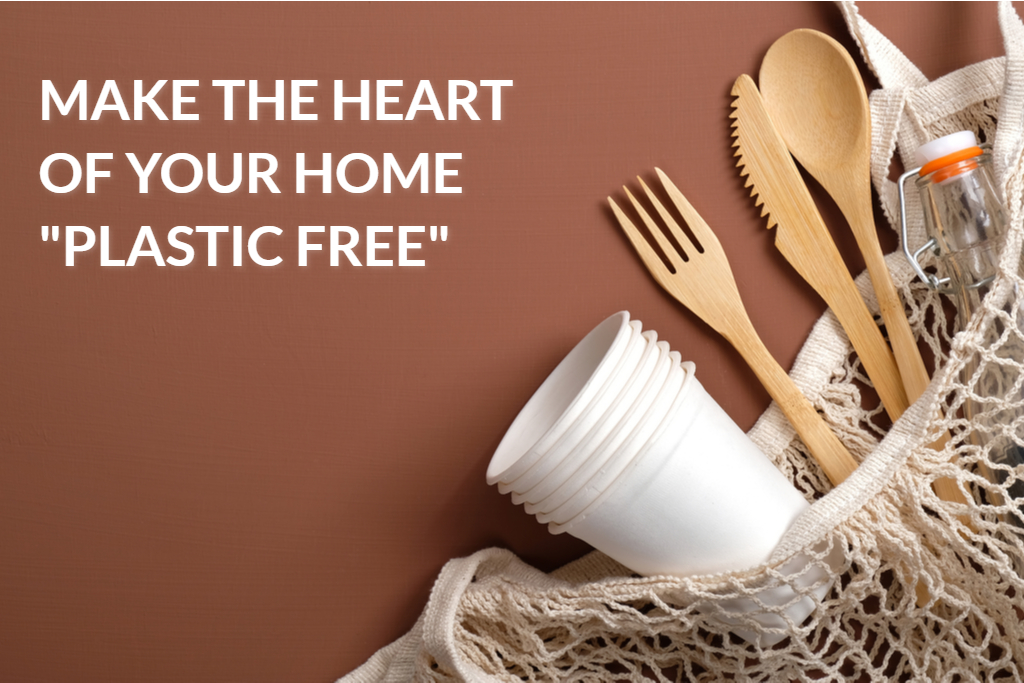 ECOWARE brings you a different range of biodegradable clamshells to keep your food healthy and safe. They are freezer & microwave friendly and turns into the soil in 90 days. You can purchase them from amazon.in/ecoware. 
We might not see the harmful effects of plastic in the short run but in the long run, plastic has very hazardous effects on us and our environment.
Creating a plastic-free kitchen is easier than we think. All we need is some consistency and determination. Start with one swap and work from there. In short, order, using non-plastic materials in your kitchen will become second nature, and you'll begin to seek out other plastic items in your home that you can easily replace. Do let us know what other plastic items in our homes can be replaced.
Ecoware cares about you and our planet. Ecoware products are made up of sugarcane bagasse and 100% eco-friendly. They are 100 % compostable and biodegradable. You can use them on any occasion and enjoy your food fresh and healthy. Do check out our amazing range of biodegradable products made of sugarcane bagasse at ecoware.in
Stay Safe & Use ECOWARE[/vc_column_text][/vc_column][/vc_row]