[vc_row type="in_container" full_screen_row_position="middle" column_margin="default" column_direction="default" column_direction_tablet="default" column_direction_phone="default" scene_position="center" text_color="dark" text_align="left" row_border_radius="none" row_border_radius_applies="bg" overlay_strength="0.3″ gradient_direction="left_to_right" shape_divider_position="bottom" bg_image_animation="none"][vc_column column_padding="no-extra-padding" column_padding_tablet="inherit" column_padding_phone="inherit" column_padding_position="all" background_color_opacity="1″ background_hover_color_opacity="1″ column_shadow="none" column_border_radius="none" column_link_target="_self" gradient_direction="left_to_right" overlay_strength="0.3″ width="1/1″ tablet_width_inherit="default" tablet_text_alignment="default" phone_text_alignment="default" column_border_width="none" column_border_style="solid" bg_image_animation="none"][vc_column_text]Using biodegradable tableware instead of plastic cutlery may appear a small step. However, it definitely has an effective impact on our environment. Discover amazing facts about eco-friendly tableware that will surprise you!
Derived from renewable plants and other natural substances, like sugarcane pulp, corn starch, fallen leaves, and recycled paper, compostable tableware is the new-age advancement of material technology that will nurture rather than harming the environment.
In order to attain a healthy environment and to keep our planet green, it is extremely essential to stop using plastic completely and switch to biodegradable tableware that is completely natural and eco-friendly.
There are numerous benefits of using compostable cutlery as it offers environment-friendly solutions that are completely outstanding. These tablewares are not only natural but also combine the flexibility and convenience of plastic food containers or other cutlery with the earth-friendly benefit of being fully biodegradable.
Still thinking about using sustainable dinnerware? Here are 9 amazing things about them that will have you hooked with them:
1. No Negative Impact
Whether it is our health or our planet`s deteriorating condition, both the aspect of our lives are interconnected. The most vital fact about using biodegradable tableware is that they have a proven positive impact on the environment. Switching to eco-friendly spoon, fork, plates, and glasses simply mean less plastic on our planet.
2. Compostable Base Material
Biodegradable plates are composed of plant waste like sugarcane pulp. This makes these sugarcane pulp products 100% biodegradable and compostable. Major plant waste, which is used in manufacturing this eco-friendly tableware are, sugarcane pulp or sugarcane bagasse, rice husk, corn & potato starches, etc.
3. No Toxins:
Where plastic is made from chemicals like Phthalates Biphenyl A and Dioxin. Whereas, the compostable cutlery like sugarcane pulp plates or other products from Ecoware are manufactured by using eco-friendly and 100% biodegradable material.
4. Reduces Ocean Pollution
According to a report published in National Geographic, the ocean is polluted with 18 billion pounds of every type of single-use plastics because of their inability to get decomposed. According to another report published in Science Advance, as of 2015, approximately 6300 Mt of plastic waste had been generated, around 9% of which had been recycled, 12% was incinerated, and 79% was accumulated in landfills or the natural environment. Thus, eco-friendly tableware helps reducing pollution in our water bodies by getting decomposed naturally.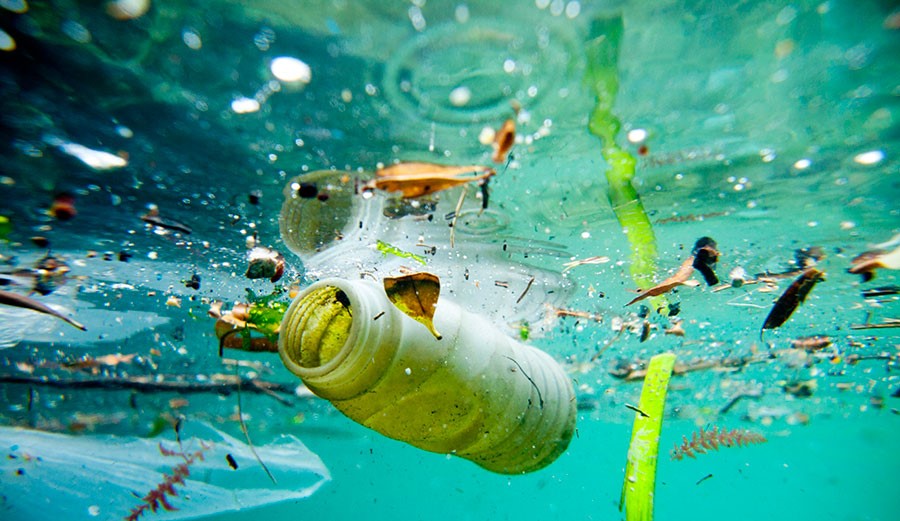 5. Stronger Than Paper
If you had this notion that compostable tableware is not durable, then from a usability point of view, most biodegradable plates and forks are way better than paper plates when it comes to serving food. Why? Because paper plates often become soggy and collapse when exposed to heat, weight, and steam of foods. Whereas these sugarcane pulp products can bear exposure to heat, weight, and steam of food for a longer duration.
6. No Special Action to Clean-up:
Although there are plenty of interesting facts about using eco-friendly plates, the best one is not to take any special measures to clean up. They do not need any garbage bags. Instead, all you have to do is put them into a compost bin and see them getting decomposed on their own.
7. Microwaveable and Freezer Safe:
Now this one is definitely an amazing one! Most of people think that biodegradable tableware can`t be used inside a microwave for reheating purpose. If you are also one of them, then here is a piece of great news- they are 100% safe to use inside a microwave and in the refrigerator. All with the goodness of natural elements! Visit Ecoware E-Store to pick from a wide range of biodegradable tableware and sugarcane pulp products.
8. More Sustainable:
Biodegradable tableware are made from agricultural waste like sugarcane pulp, which is sugarcane fiber leftover from juice extraction. This makes them immensely sustainable products. It uses a waste product that otherwise might get dumped into the landfill.
9. Fuel Efficiency
The production of these biodegradable products takes 65% less energy than required to produce plastic, which makes them the top energy-efficient choice.
Picnics and birthday parties are best enjoyed with disposable cutlery. Without having to worry about post-party-clean-up, using biodegradable tableware is the best way to enjoy food and go green, simultaneously. With so many amazing facts, it is impossible to not love these completely eco-friendly products!
When are you switching to compostable dinnerware?
Want to make an everlasting impression amidst your friends and planet? Then switch to sustainable tableware and go green! To buy some of the best designs, visit www.ecoware.in, today![/vc_column_text][/vc_column][/vc_row]