Millions of tons of waste are produced each year by the airline industry. These cabin wastes are often piled up in a landfill or are incinerated which leaves a lot of harmful residue in the environment. To avoid such huge amounts of wastes, the only solution is to use bio-degradable packaging and eco-friendly tableware.
Cabin waste is a global problem. Roughly 4 million tons of food is lost or wasted each year, according to the IATA. Recyclable newspapers, paper trays, plastic cups, and cutlery constitute another 17% of the waste on board. With more than $15 billion markets for airline catering, it's more important than ever to start working on improving planning and logistics with regards to cabin waste. Plastic abounds throughout airplane food service, as plates, cutlery, drink stir sticks and other items offered to passengers are typically designed for individual and temporary use. The amount of plastic waste generated is getting even serious, as airlines are taking stock of their consumption of single-use items. On top of this, passengers also leave plastic wrappings from blankets and pillows, disposable headphones, as well as mini toiletries and cosmetics.
Moreover, there is another tricky problem associated with cabin waste as it can't just be taken away from the aircraft, sorted, and reprocessed. Many countries have strict health and safety regulations in place, which means that most of the waste from aircraft ends up going to incineration plants which end up creating air pollution.
Plastic-Free Flight Initiatives
With a $15 billion market for airline catering in 2017, it's increasingly important to start working on improving planning and logistics around plastic waste. Airlines around the world have initiated their own ways to cut down on waste produced during flights. Some airlines have created an entirely new set of crockery, cutlery, and glassware. These include fine-bone china plates and dishes, five stainless-steel utensils and glasses, including seamless wine glasses for every passenger.  The only drawback of using ceramic and glass tableware was that it increased the weight of the aircraft which means they would require more fuel. The only solution to reducing cabin waste and carbon footprint produced by the aircraft is by using biodegradable tableware, eco-friendly disposable boxes and disposable wooden spoons.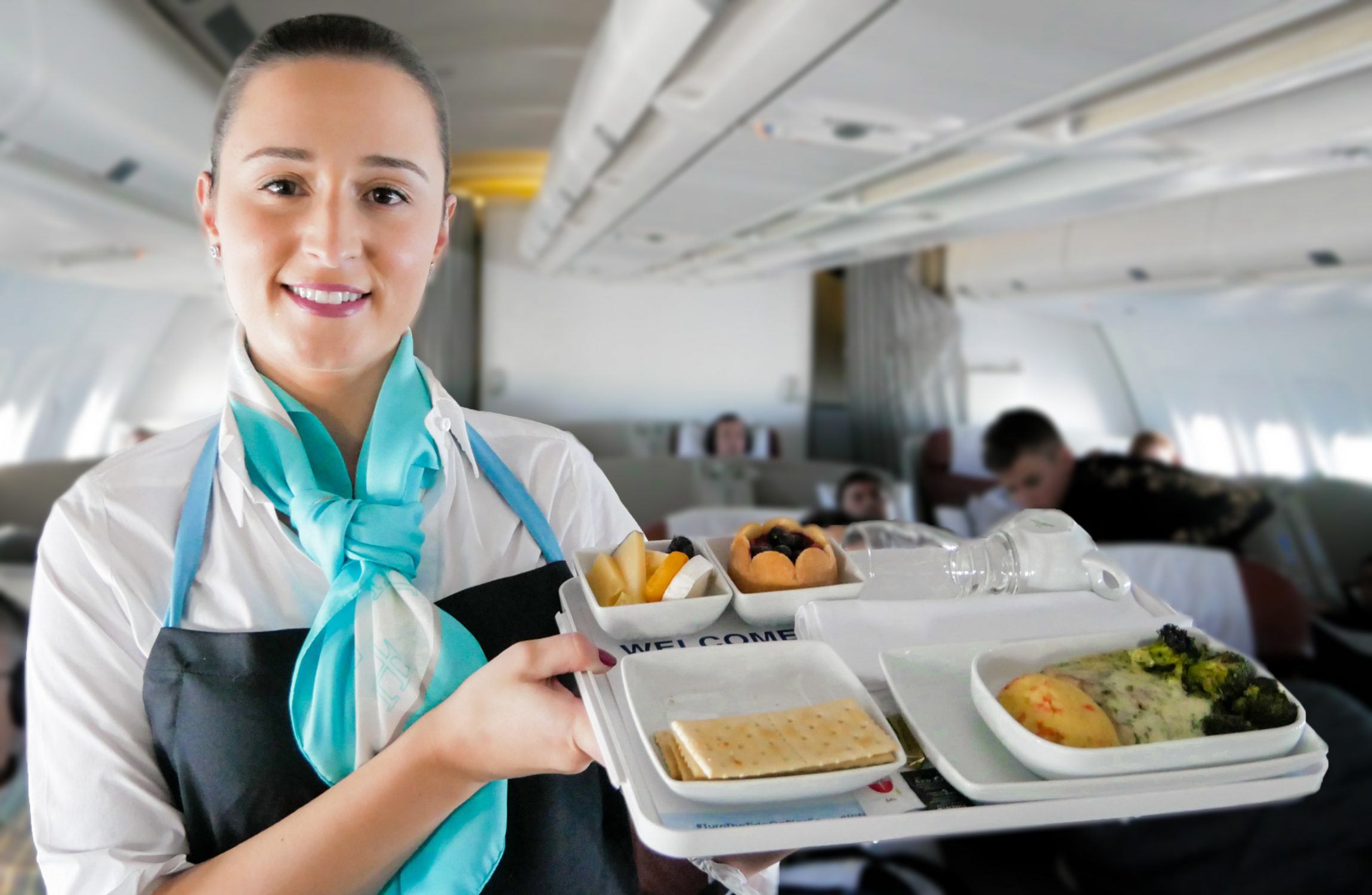 Biodegradable Initiative
Australian carrier Qantas completed its first "zero-waste" commercial flight in May 2019. This means all the waste generated during the flight was recyclable, reusable, or compostable. Around 1,000 plastic items were replaced with more environmentally friendly alternatives like biodegradable food packaging, disposable serving trays, and biodegradable cutlery. The food containers were made from sugarcane pulp and the cutlery from cereal starch. They were later collected in separate bags by the crew, who also took recycled passengers' paper boarding passes and newspapers. This resulted in a reduction of around 34 kg of plastic waste compared to normal flights, according to the airline's calculations. The airline estimates that the weight reduction of the new items will amount to an annual saving of more than 500,000 kilograms in fuel.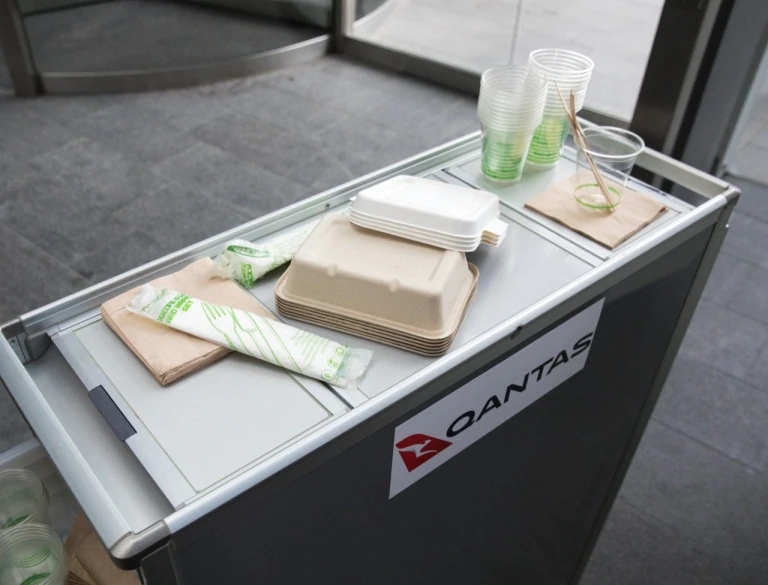 Some airlines like Air France, KLM and Hifly have also designed an elegant and refined tableware range, which are aesthetic, ergonomic, and biodegradable.  Air France has also pledged to eliminate 210 million pieces of plastic used on flights by the end of 2020.
Awareness for use of biodegradable tableware
Passengers and the people itself are already increasingly worried about the impact of single-use plastics on the marine environment, governments are focusing on minimizing food waste, and airlines are concerned that the regulatory system inhibits their ability to respond to these challenges. IATA wants to support the simplification and harmonization of cabin waste regulations and promote technical solutions that will reduce industry costs and contribute to the circular economy. It's clear that parts of the airline industry are taking steps to reduce the tide of waste through simple measures such as using trolleys designed for waste separation, compostable catering trays, and biodegradable cutlery.
Ecoware- The ultimate solution to plastic cabin waste
To help achieve the goal of zero-waste flights, Ecoware has developed a complete set of biodegradable disposable tableware including sugarcane pulp plates, biodegradable paper bowls, compostable catering trays, disposable wooden spoons, and eco-friendly disposable cups. These items are disposable, and with the current debate over single-use plastics raging, you can realize how much better these items really can be for the environment. These utensils are durable and suitable for all meals served on board for both hot and cold contents. Even better, they do not end up in landfills, due to their biodegradable nature. The cutlery, the plates, and other utensils are made from crop waste which is natural and eco-friendly which can significantly reduce the amount of non-compostable waste from airlines.