Plastic tableware and cutleries used in airlines make heaps of wastes which take a huge toll on the environment. Ecoware has come up with a solution with a range of biodegradable tableware products to be used to serve onboard passengers to reduce airline cabin waste.
Millions of tons of cabin waste are produced by the airline industry every year. In every flight, a standard passenger produces an average of 1.43 kilograms, most of them being plastic waste like single-use cups, food trays, cutleries, and tableware. In 2018, airlines generated around 6.7 million tons of cabin waste according to the International Air Transport Association (IATA). Styrofoam trays, plastic cups, and cutlery constitute more than half of the waste on board, according to the report. These plastic wastes are often incinerated or taken to landfills due to strict quarantine regulations, where they are piled up without implementing any proper environmental measures. In the absence of smarter regulation, cabin waste volumes could double in the next 10 years therefore there is a strict need for eco-friendly alternatives.
Zero-Waste Initiation
Although, many airlines recognize the importance of reducing, reusing, and recycling cabin waste from their flight operations to reduce their environmental footprint, their efforts are very less visible considering the total waste generated throughout the world. To cope with the rise in plastic waste, some airlines have started devising their ways to cut down on waste produced during flights such as using biodegradable disposable glasses and eco-friendly disposable boxes. The IATA supports the simplification and harmonization of cabin waste regulations and promotes technical solutions that will reduce industry costs and contribute to a better environment. With this, people are becoming informed of the use of non-biodegradable plastics, and some airlines have already adopted zero-waste systems in their brochures.
First Zero-Waste Flight
One of the first airlines was the Australian carrier Qantas which completed its first "zero-waste" commercial flight in 2019. This means all the waste generated during the flight was recyclable, reusable, or compostable. The airline has pledged to eliminate 75 percent of its onboard waste by the end of 2021 and use 100 million fewer single-use plastics by the end of 2020. Around 1,000 plastic items were replaced with more eco-friendly disposable tableware like disposable wooden spoons, compostable catering trays, and eco-friendly plates. The food containers were made from sugarcane pulp and the cutlery from starch.
First Zero-Waste Flight by Qantas
After observing the significant reduction in waste from airlines, Hifly and Dutch airline KLM also announced in June 2019 that it wants to cut out plastic cutlery and dishes, and substitute them with bio-biodegradable food packaging materials. Air France has also pledged to eliminate 210 million pieces of plastic used on flights by the end of 2019.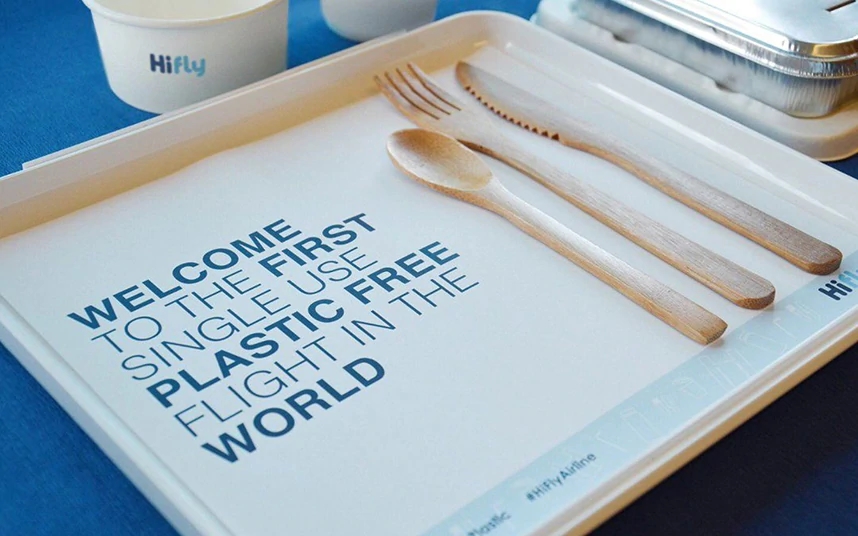 Bio-degradable cutlery and trays introduced by HiFly Airlines
Trial and Innovation
Despite the best intentions, diverting waste from landfills is not that easy. Changes have to be made in the airline industry and all the biodegradable disposable tableware must be brought in use. While waste management is largely the responsibility of the airline, much of its success relies on the steps they are willing to take and how it tries to control the issue of plastic wastes. There's a lot of resourceful ways of minimizing plastic waste, they take a little bit of innovation but can be a great advantage. It is as simple as using eco-friendly disposable cups instead of plastic cups and looking at alternative light-weight packaging using biodegradable materials.
Ecoware
In the search for eco-friendly onboard products, Ecoware has developed a perfect set of eco-friendly disposable cutlery and tableware for onboard meals. These products are made from crop waste and sugarcane pulp which is bio-degradable and does not release any toxic chemicals in the environment. These products are durable and suitable for both hot and cold contents and are also specifically designed to hold all the types of food items served during a flight.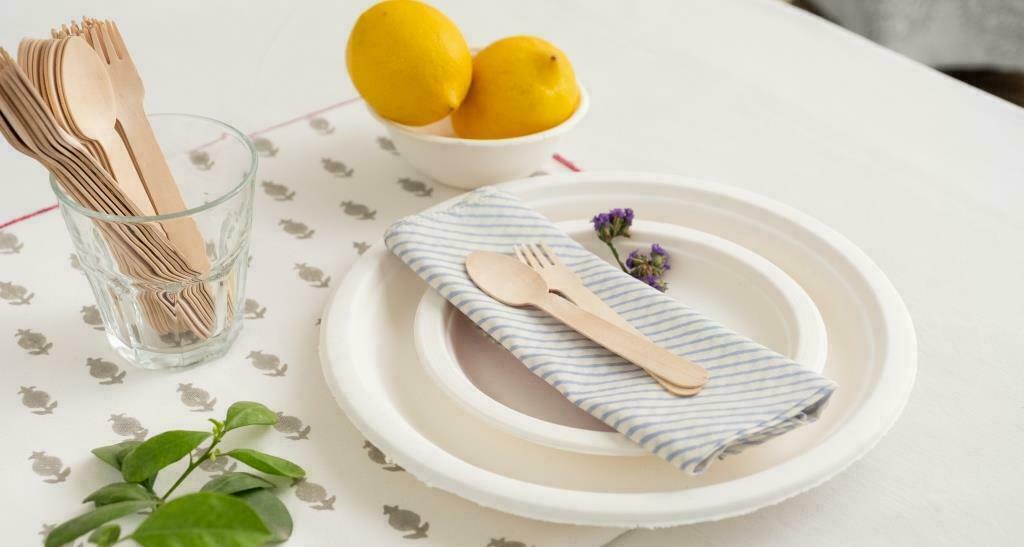 Eco-Friendly Disposable Cutlery and Plates from Ecoware
Why are Ecoware products the best alternative for airline plastic ware?
Products of Ecoware do not end up in landfills, due to their biodegradable nature. Sugarcane pulp products produce significantly fewer greenhouse gas emissions than traditional plastics over their lifetime. There is no increase in Carbon Dioxide when they break down as the plants that they are made of would also absorb the same amount of carbon dioxide as they decompose naturally. Also, sugarcane pulp products do not produce toxic fumes if incinerated. With all these in mind, Ecoware is striving forward to bring a change by introducing eco-friendly disposable tableware to the airline industry and considerably reduce the airline cabin waste. For more details on Ecoware products, you can visit the website www.ecoware.in.