Cabin waste is becoming a huge environmental crisis that can only be solved if both the passengers and airlines work together. Reducing the amount of food wastage and eliminating the use of all types of single-use plastics and replacing them with more sustainable products like compostable catering trays and eco-friendly disposable cups is one of the solutions.
After boarding a plane, you settle into a seat, perhaps pulling a blanket and pillow from plastic wrapping to get more comfortable. You take a glass of water in a plastic cup offered by the flight attendant, accept some juice in a plastic bottle, and settle in to pick your in-flight meal, arranged in an assortment of plastic containers, complete with plastic cutlery and plastic plates, which all end up as waste now or then. It is a familiar scene for those who fly, especially on long-haul flights, which is having a big environmental problem.
Aviation being a vast industry, it has a large impact on the environment as well as the climate. It accounts for 4 to 9 percent of the total climate change impact of human activity. Moreover, it burns the equivalent of more than 5 million barrels of oil a day, adding up to around 2.5% of all carbon dioxide pollution, which place an even bigger burden on the world's climate.
Although air pollution is a big concern, much of the environmental issue arises when it comes to using products like plastic cutlery, fully packaged ready meals, single-use cups, packaged drinks, styrofoam plates, unopened beverages, miniature wine bottles, half-eaten lunch trays, unused toothbrushes, which all end up as waste. Airline passengers generate more than 6 million tons of waste each year, most of which goes to landfill or incineration, according to the International Air Transport Association (IATA). The amount of waste produced by airlines is set to double in the next 15 years.
With the huge growth in the travel industry, this number could double before 2030, unless the world's leading airlines take steps to prevent it. Plastic is a big part of cabin waste and a shocking problem globally. Only around 9 percent of the 6.3 billion metric tons of plastic waste used in airlines are recycled, the rest end up in landfills or incinerated. Plastic waste pollutes our water, air, soil, and food, and has been found everywhere from the deepest parts of the ocean to the pristine mountain air, to a whale's stomach. Some airlines are trying to tackle the problem, but it's easier said than done.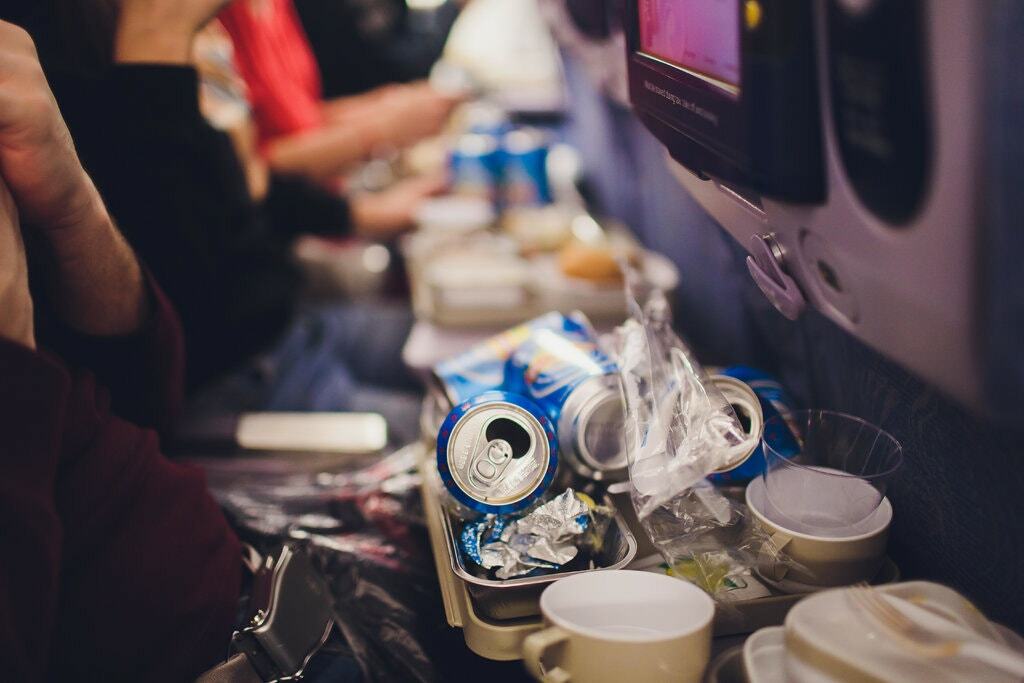 Steps airlines can take to combat the environmental crisis
To counteract the environmental crisis, the demand from airlines for new sustainable packaging material and biodegradable tableware is rising. Many airlines that have replaced single-use plastics, with more sustainable solutions such as bamboo, paper, and sugarcane pulp cutlery and a whole variety of different biodegradable options. Other airlines show that it's possible to introduce sustainable policies while still adhering to current international regulations. For passengers on board, this will mean that they will have to switch to eco-friendly disposable cutlery, biodegradable disposable cups, and disposable serving trays. Removal of plastics from the range of in-flight product is also being initiated. Even though many of the airlines are doing their best to reduce waste, many of the efforts are slow because plastic has the advantage of being both light and cheap. To work as a team to reduce environmental hazards, the passengers themselves have to step forward and make a choice that is better for the environment. This can help reduce the use of plastic containers, cups, and plates during flights. Using reusable water bottles, not putting waste in seat pockets, refusing food and beverages you don't want can contribute a great deal in reducing cabin waste.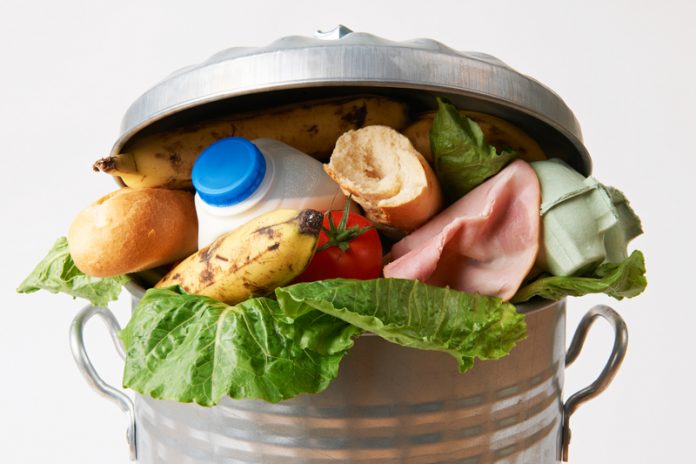 Steps passengers can take to reduce cabin waste
For travelers dissatisfied by the airlines' progress, you yourself can take responsibility for at least part of the environmental impact of your flights into your own hands.
Don't print your boarding pass
This might be obvious but some people still line up at the check-in counters with their paper boarding passes or printed tickets. Most, if not all of the airlines offer E-tickets, downloadable via email or through the airline's phone apps. Moreover, we all own a smartphone in this digital era, making it easier than ever to go green. Of course, some airlines will print a boarding pass while checking-in, but at least you've avoided printing it twice.
Choose reusable Travel Utensils
You have many options onboard, but the choices you make can have a huge impact on the environment. Make sure you travel sustainably and ask for biodegradable cups and eco-friendly cutlery to the flight attendant. If every individual travels with an environmentally friendly approach, the airlines themselves have to meet the demands and make changes to their policy and system.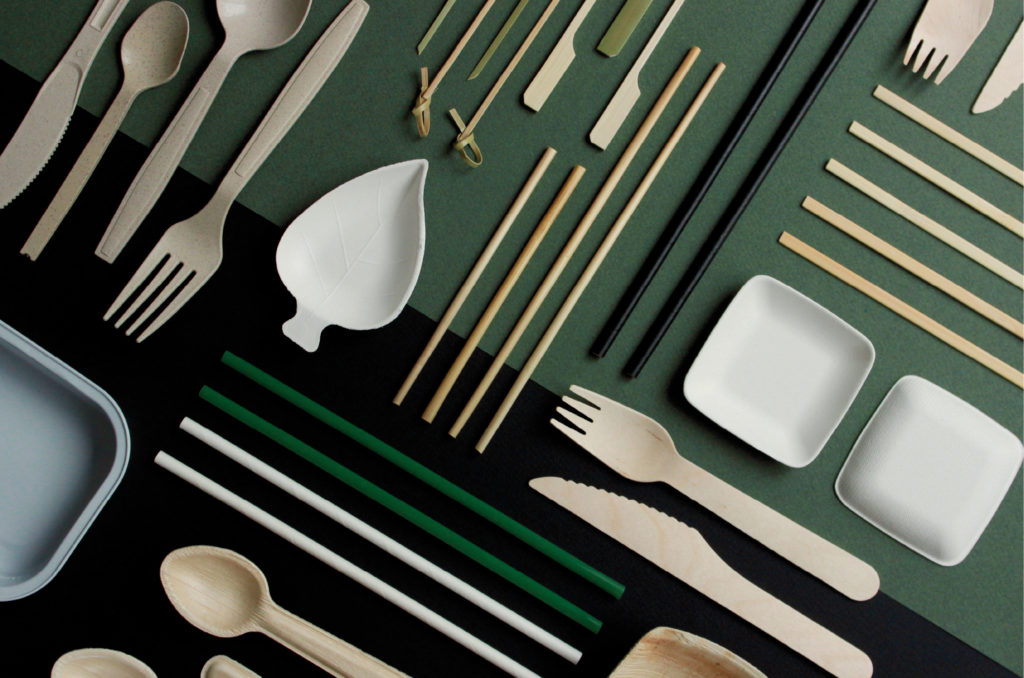 Dress warmly for the flight
Dress warm, especially on long flights as you can then avoid using the airline blanket wrapped in single-use plastic: It does not look like much of a solution but every little bit counts, especially if we all do it. If you're too sensitive to cold, you can bring your own travel set that includes a blanket, a neck pillow, and an eye mask.
Pack a Zero-Waste Kit
Pack a simple kit including a reusable water bottle, travel cups for coffee or hot drinks, cloth napkins, disposable wooden spoons, and even snacks so you don't have to purchase any plastic-wrapped food onboard.
Order only what you can eat
A large part of cabin waste includes half-eaten food. Even though the food served during flights is not the best, some passengers tend to order a lot and end up leaving half the food. The food waste ends up in landfills which eventually cause an environmental crisis, so order only if you are hungry or order limited food which you can eat entirely.
To help reduce the environmental crisis caused by cabin waste, the first and largest sustainable packaging company in India, Ecoware, is willing to take responsibility and provide sustainable solutions in the catering department. With a range of eco-friendly disposable trays, eco-friendly disposable cutlery, sugarcane bagasse plates and biodegradable disposable glasses made from crop waste, Ecoware is trying to reduce the dangers of single-use plastics.