Single-use plastics have brought great convenience to people around the world, but it has become a global menace now! Discover how you can help turn the tide on plastic pollution.
Plastic- a modern wonder that wasn't invented until the late 19th century, arguably became the most vital material in today's consumer economy. Lightweight, flexible, and tough, it is perfect for holding everything from aerated drinks to grocery items to houseplants. Highly convenient and functional, suddenly why plastic has become one of our worst nightmares?
The main reason behind it is that single-use plastic items are not eco-friendly and the waste which is created after its disposal. Around eight million tons of used plastic find its way either to the landfills or the ocean every year. Their accumulation in the river bodies and waterways results in collecting into enormous floating islands, being consumed by marine animals, or disintegrating into micro-particles that find their way back into our food.
Need an eye-opener? Well, here it is. According to a recent study conducted by the National Geographic Society, 'by 2050, humans will have manufactured around 50 billion tons worth of single-use plastic. Only a small proportion of the discarded plastic will be recycled, and that too may be getting smaller now as China halted imports of plastic wastes'.
So is plastic pollution irreparable? Certainly not! "This isn't a problem where we don't know what the solution is," says Ted Siegler, a research economist at Vermont, who has spent more than two decades working with developing nations on garbage. According to him, anyone can pick up, dispose of, and recycle the garbage. But it is all about building the necessary institutions and systems- that too before the ocean turns into a thin soup of plastic.
Here are five practical steps you can take to solve the plastic pollution crisis:
1. Fix Your Caffeine Fix with Eco-Friendly Disposable Cups
A freshly brewed coffee in the morning can give your day a kick-start, but the fact that around 2.5bn cups are thrown away every year in our country alone can ruin your mental peace. Less than 1% of these are recycled, which means most of these glasses or cups spend more than 50 years in the Ghazipur landfill. That too, after getting used just once! So why not bring biodegradable disposable cups and enjoy coffee, guilt-free?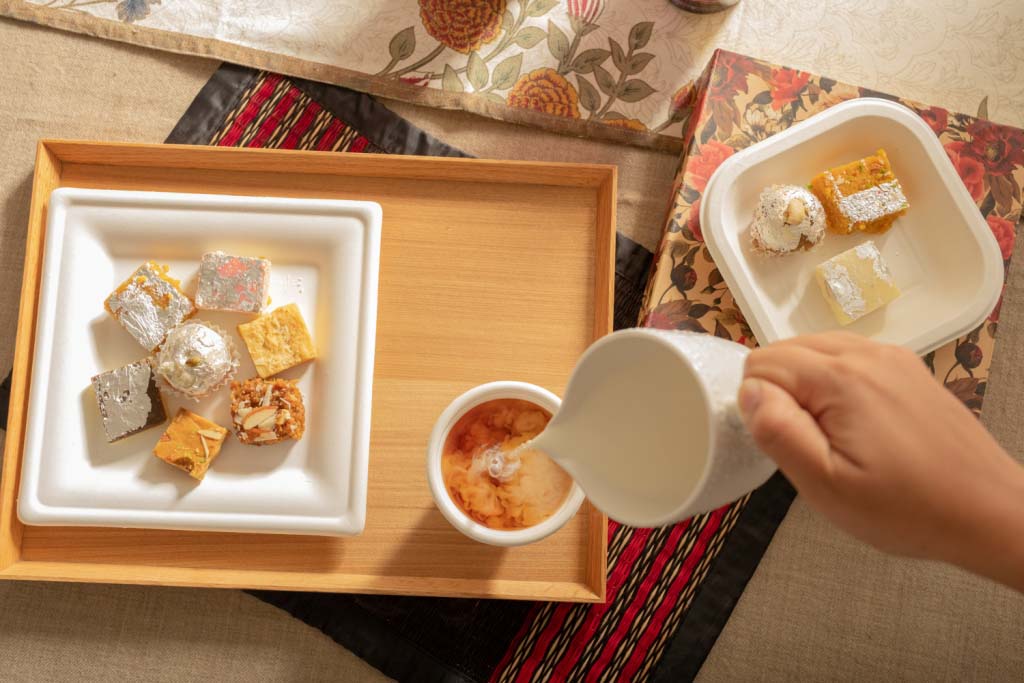 2. Bring your own bottle
One of the frequently found items on the beach and road is plastic bottles. Carrying a glass or a metal bottle can help you stay hydrated on-the-go, without having any adverse effects on our environment.
3. Say Bye-Bye to Plastic Cutlery
If you love using straws or plastic spoon while outing, you will be surprised to know that you can save 466 unnecessary plastic items every year, how? Well, by not going out (kidding)! Carry eco-friendly disposable cutlery. Made from birch-wood and sugarcane pulp, they are 100 percent compostable and biodegradable.
4. Ditch the Cling Wrap
A cling film can't be recycled, while foil could be! So when you are using a foil paper, put it in the recycling bin after use. Another alternative is to switch to biodegradable food packaging as it is 100% natural and environmentally friendly. This means with our eco-friendly disposable tableware you can keep your food fresh, without nasty chemicals leaching into it.

5. Give up takeaways in plastic containers
We know how hard it is to maintain a work-life balance. So if you are one of those who grab a bite from their favorite café, every morning, this one is for you. Carry eco-friendly disposable tableware or a reusable food container with you and ask your food to be packed in it. This way, you can save yourself from ingesting various harmful chemicals like BPA.
What is more satisfying- a pristine clear ocean or dead whales washing ashore? Of course the former one! Incorporating these simple yet highly effective tricks can do wonders in bringing the plastic consumption down. However, we need the "zero waste" movement to tackle with menace called- Plastic.
Start making changes right from your home by replacing plastic cutlery with eco-friendly disposable tableware. You can find an exclusive collection of sugarcane pulp plates and other eco-friendly disposable cutlery at www.ecoware.in. Order today!